Swipe to the right
Bright White Summer
From décor to dinner, your end of summer blast will be one to remember.
Labor Day is just around the corner and that means it's time to retire your crisp white Armani outfit for something in a darker hue. While the traditional fashion rule doesn't have everyone putting away their summer whites any longer, it is a top-notch excuse to throw a fabulous and classy bright white summer celebration. An all-white themed affair is precisely what it sounds like – an event where everything is in the pure hue from décor to lavish drinks. GEARYS has hand selected the perfect products to make your party stand out amongst the rest. From décor to dinner, your end of summer blast will be one to remember.
Décor
Traditionally, all-white themed parties are held outdoors around dusk. However, that doesn't mean you cannot throw an extravagant event inside, or create a white space for your guests if they walk through your home to the backyard festivities. Nothing sets the tone better than a room decked out in white. Don't go out and swap your floors or furniture to celebrate, as there are other ways to ensure your home is ready for a bright white summer celebration. Change out your curtains (or cover your blinds) with a simple cotton drapery. White slip covers will take care of any furniture pieces.
A party area would not be complete without picture perfect centerpieces. We suggest an elegant floral display. White roses, carnations and hydrangeas make for a classical look when paired together in larger vases – such as the Lavish Vase by Vista Alegre to continue the white styling – or in the crystal Kosta Boda White Contrast Vase that will have the light sparkle off of it. Both offer an elegant feel and will show off the blooms in style. Finish off the centerpiece with one or two white tapered candles set in the Cairn Opal Candleholder. Lighting candles as opposed to overhead or twinkling decorative lights will help to keep the party feeling intimate.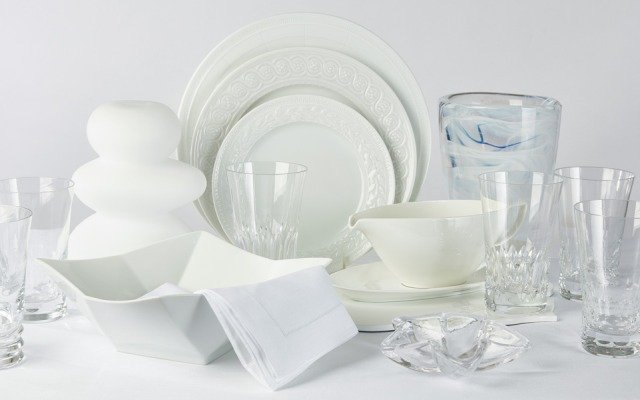 Table Settings
As with any indoor pieces, the proper white linens are a must for creating the best table possible for your white themed party. The Classico White Hemstitched Linens collection has all the pieces you will need including placemats, napkins and various sized table cloths. Created by hand, these heirloom pieces are fine quality paired with the elegance of fine linen. While you're setting down the napkins, why not consider creating a beautiful rose fold to set atop each plate?
No table is complete without the perfect dinnerware to tie together the design. We love the Fusion White Dinnerware collection. From sharp-edged squares to quirky oval dishes, this set has a modern vibe that is flawless and chic for white parties. Don't forget to place the stylish, metallic thread, scalloped-edge Fez Placemat beneath each setting.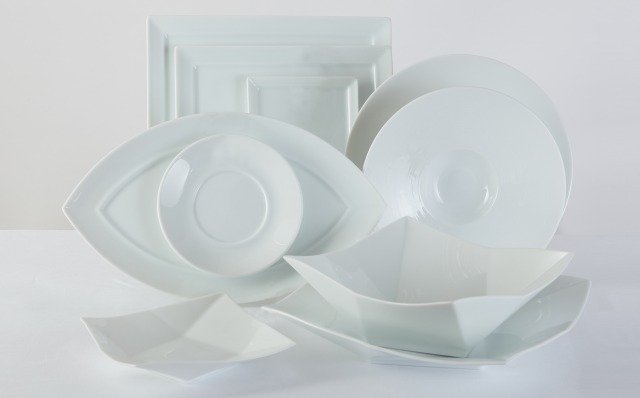 Drinks
It isn't a party without a little refreshment. Nothing says a fabulous evening like themed drinks. White chocolate martini's, white sangria and of course, white Russian's are merely a few of the most popular white drinks. Serve them to your guests in this uniquely matched collection of bar glasses from Baccarat. A set of six perfectly crafted cut crystal highball glasses, each with a different creative pattern from decadent Baccarat lines, is sure to impress your party guests & show off your expert bartending skills for the popular end-of-summer party refreshments.
Menu
The best white themed parties always boast meals in the same hue. Start guests off with a delicious white bean and artichoke dip served in the Jasper Conran Gravy Boat so attendees can take plenty at a time. This sauce boat features a unique geometric shape that fits in perfect with the Fusion Dinnerware on the table. Chicken pasta alfredo makes for a scrumptious main course and moves dinner along to the dessert bar mentioned below.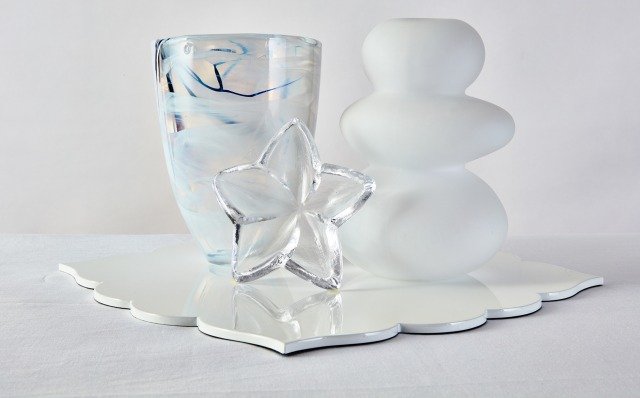 Whether indoors or out, a candy bar with white colored sweets is a must. Display the candy in a mixture of a stylish star candy dish and candy dispensers. The mixture of silver and glass holding the white candies ensures your guests will see the small treats. White rock candy, M&M's, foil-wrapped chocolate balls and coconut jelly beans are just a few of our personal favorites. Small plates of white chocolate dipped strawberries and coconut dusted marshmallows will finish off the dessert's area. If you're looking for a more elegant feel, try serving powdered sugar covered angel's food cake. The Louvre Rectangle Cake Platter fits in splendidly with the other service pieces and your guests will appreciate another option for dessert.
Now that you have the ideal setup at your fingertips, we can't wait for you to throw an impeccable bright white summer party to celebrate Labor Day. For other products to make your party thrive see our list of white dinnerware here.
Yours Truly,
Tom & the GEARYS Team
---