Swipe to the right
Emerald Elegance
Celebrate the month of May with a bit of emerald elegance!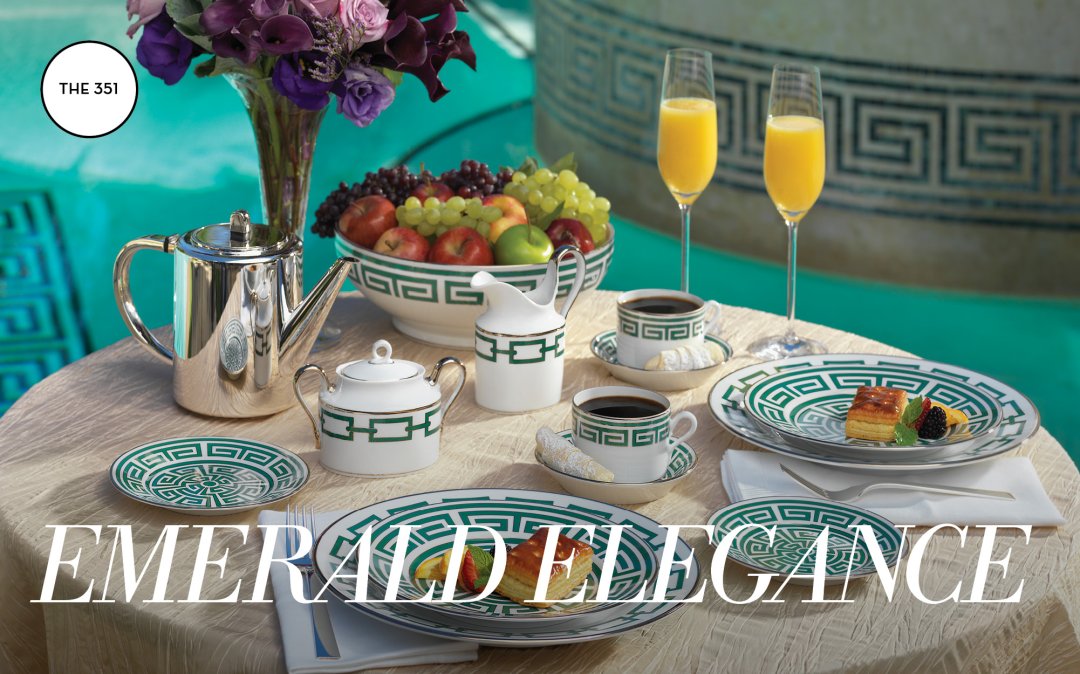 Emeralds have adorned lavish crown jewels from Cleopatra to Elizabeth I, and set in other delightful products from wine glasses to coffee services and more. Their deep rich hue sparkles in any light and setting, making the wearer feel as rich as royalty. More than just a stunning stone, emeralds are also the birthstone for the month of May. They are among the rarest gemstones and have small "birthmarks" or inclusions that give them a personality of their own — just like people. Emeralds are said to grant the owner's foresight, good fortune and youth — three qualities everyone can appreciate. There's no time like May to give the gift of emeralds for someone's birthday, or just to spoil yourself if you love the glamorous look of the stone. GEARYS has selected a few of our favorite products to help you get started. Be the envy of everyone's eye by showing off these amazing emerald gifts.
At GEARYS we have a wide array of gifts from jewelry to magnificent glass vases, but we think the perfect place to start when selecting a present is jewelry. These diamond and emerald stud earrings combine elegance with simplicity making them an ideal statement piece. The beautiful circular studs showcase a bright green emerald surrounded by sparkling diamonds. Whether it's the final touch to a favorite little black dress or the wow factor with a business suit, these earrings will impress. No matter if you're giving yourself a gift or someone else; you can't go wrong with emerald jewelry.
Jewelry isn't the only way to give the gift of emeralds to a special person, so what could be better than a product straight from the Emerald Isle? We love the Waterford Green Shamrock. This four-inch piece is a deep shade of Kelly green and the perfect addition to any tabletop or bookshelf. Another great centerpiece that often takes center stage is the Baccarat Green Rectangular Eye Vase which showcases precision, beauty and offers a deep pop of emerald green to liven up your home. The wavelike pattern surrounding the vase gives it a little extra burst of style. From tulips to roses, any bouquet will look picture-perfect nestled against the vivid backdrop.
With exquisite charm and quirkiness, one of our favorite emerald products is the Lia Emerald Bottle Stopper from Rablabs New York. While the vase was from Ireland, this attractive bottle stopper features a rare uncut emerald straight from Brazil. The stone in this bottle stopper is unpolished and shows off the less seen natural side of the emerald which is one of the reasons we think it's a wonderful piece. Set atop handcrafted glass the rugged nature of the clustered stone shines. Add a little glamour to an otherwise boring bottle of wine or champagne with this unique gift.
From the sophisticated beauty and appeal of emerald jewelry to the specialized look of a clustered stone atop a bottle stopper, emeralds make a touching gift for anyone on your list — including you! Celebrate the month of May with any of these wonderful emerald featured or inspired pieces here.
Yours Truly,
Tom & the GEARYS Team
---